STORIES FROM THE SACRED WILD
A WOMEN'S WRITING RETREAT ON BOWEN ISLAND
What stories from the sacred wild are calling out to you?
What aspects of your own wild nature are longing to be heard?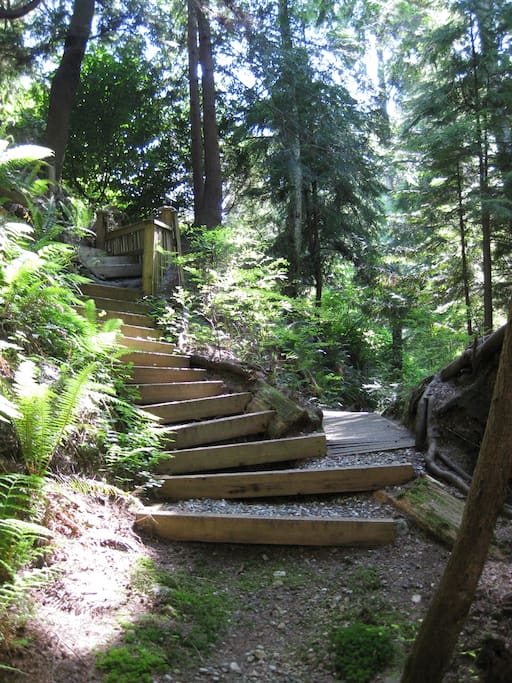 This women's writing retreat is an invitation for you to explore those succulent stories and rich words which stem from the sacred wild.


When we enter into reverent communion with nature and the deep psyche, we can touch that primordial place within and around us, where the source of all story exists. Deepening into our own wild nature – through cultivating a sense of freedom, acceptance, gratitude and playful curiosity – we can track the shimmering shards of our sacred stories longing to be heard.
This is the terrain of psyche and soul; that mysterious realm teeming with the magic of creation. It speaks to us in the language of imagery, symbolism, intuition, night dreams, and nature.
Through intuitive writing, nature immersion, deep imagery, movement, and story council, we will prime and awaken the wild psyche in order to enter into the sacred story realm. We will then engage in solitary excursions, wandering amongst forests and shorelines – senses alert – listening for whispers of our own deep stories woven into the luminous web of the sacred wild.
This retreat will empower you to: 
• Connect with your inner storyteller and wise healer
• Unearth the hidden gems embedded within your writings
• Discover simple and powerful intuitive writing methods
• Develop a consistent writing practice
• Honour your place in the great mystery and unfolding story of life
• Deepen your connection with nature, psyche and the numinous wild
• Explore the deep subconscious and rich inner realms
• Recognize and appreciate the sacred in the everyday
• Unleash your wild and precious tales!
You do not need experience as a writer to participate in this workshop. 
All levels are welcome! 
Whether you're currently working on a writing project, or wanting to explore the hidden stories which exist within, this retreat is sure to jump-start your writing process! You will leave with a variety of valuable tools to develop an ongoing writing practice, faith in your ability to write, and the motivation to keep going!
The retreat space is a peaceful forest oasis with glass walkway connecting the main house, a separate guest house, and meditation sanctuary. There are wood burning fireplaces, an outdoor hot-tub, and forest trails which lead to a beautiful ocean look-out point. The property is a 5 minute walk to a nearby beach.
Transportation can be arranged from the Bowen Island ferry terminal, and further workshop details will be provided upon registration.
Cost: $550 (Accommodations and meals are included).
*Suites are semi-private (in separate rooms) with one shared washroom per 2 rooms.
Dates: Sat, Feb 6th – Mon, Feb 8th, 2016
Maximum 6 participants.
A $100 down payment is required to reserve your spot and the balance is due one week prior to the retreat. (Payment plans arranged by request).
For more info contact Corry Chaplin at: wildwordsworkshop@hotmail.com 

Story Guide, Corry Chaplin, is a writer and former magazine publisher. She has professional training as a journalist, a Provincial Instructor Diploma in teaching adults, and specialized training in writing workshop facilitation. A graduate of the Centre for Journal Therapy, she has taught writing workshops for the past 15 years to such diverse groups as writers, artists, caregivers, and women in alcohol and drug recovery. She is currently writing a book about the power of story.
For photos of the retreat space, see below: